To start with, I'd like to give a shout out to all the volunteers with the Wood River Bicycle Coalition who have been working hard on our local trails. The bike coalition has held eleven work sessions so far this season and contributed over 600 hours of time to the rebuilding of trails damaged in last years fire. They are also super busy helping out at the many local bicycle related festivities, races, and two-wheeled shindigs we all get to enjoy and take part in. Thank you volunteers with the Wood River Bicycle Coalition for making our trails better, and for helping us enjoy lots of two-wheeled fun!
The WBRC is an inclusive group, and Executive Director Brett Stevenson reminded me that while their volunteer core may be made up mainly of bike riders, the group welcomes the help of anyone who wants to lend a hand with the group's volunteer efforts. "These volunteer sessions are for all trail users, not just bikers," says Brett. And that certainly makes sense, as all trail users are benefiting from the work being accomplished.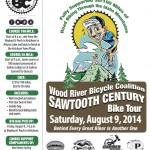 The next big event that the WRBC is hosting is the Sawtooth Century – a great ride in some of the most spectacular country on earth, and it benefits the Wood River Bicycle Coalition. Its a super ride, and they have a motto that seems so appropriate: "Behind every great biker, is another one." Ha, ya gotta love a club with a sense of humor. The ride is fully supported and includes 50 mile, and 100 mile length options. Sign up now and get your ride on!
If you'd like to help out on the next trail work session or want more information about the group, please visit their web site at: The Wood River Bicycle Coalition.