Why write a Trail Blog?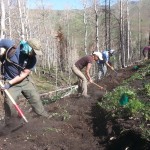 The 2013 Beaver Creek Fire put a strain on our native surface trails and efforts are underway to rehabilitate them and bring them back into the kind of shape that helps make them so well loved. We hope this blog will help keep the public informed about the repair efforts that are underway while serving as a forum for discussion about our local trails. This blog is intended to inform and educate the public about responsible trail use, upcoming trails events, and other news about our area trails.
Who's writing the blog?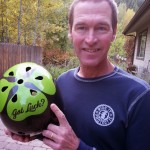 That would be me, Chris Leman. I have been hired by the BCRD as the Wood River Valley Trail Coordinator. The position is funded by the Ketchum Ranger District, Sawtooth National Forest, the BLM Shoshone Field Office, and support from a community foundation. The need for help with post Beaver Creek Fire trail rehabilitations, reroutes, and reconstructions was a motivating factor in creating the position, but there was also a recognized need for improved communication with the public about our area trails.
What does Chris Leman know about our local trails?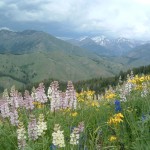 I've been riding and hiking the trails in the area since moving here in 1989, and I've been a volunteer trail advocate in the valley for many years. Some of you may know me from my leadership work with the local trail group, Big Wood Backcountry Trails. We advocated for the trails and did a lot of trail maintenance projects in the valley. We also worked to help educate the community about local trail issues. During the last several years I have been working as a trail designer and builder for the Trail Solutions program at the International Mountain Bicycling Association.