Hi everyone, here is a Blaine County Recreation District trail update for Friday, September 1, 2023:
RPI is underway
Rebecca's Private Idaho bicycle events are underway with a ride from Ketchum to Dollarhide pass and back on Warm Springs Road today. Saturday is a day-off for the racers, but a fund-raising fun-ride will take place on the singletrack trails near Ketchum; all are welcome to join in on this casual pedal. Sunday is the final stage of racing with participants using Trail Creek Road, Corral Creek Road, and roads in the Copper Basin. For info visit the PRI site. Here is a link: Rebecca's Private Idaho 2023
Seasonal motor vehicle restrictions
Seasonal motor vehicle restrictions are in effect on the Ketchum Ranger District, including the locking of the gate on the East Fork of Baker Creek Road. The restrictions also impact many of the trails between Baker Creek Road and Warm Springs Road, including the Oregon Gulch and Osberg Ridgeline trails. Restricted roads/trails are closed to all motor vehicles but open to other uses. Not all trails or roads on the KRD close to motorized use at this time. The KRD's Motor Vehicle Use Map definitively describes what routes are open to what uses during the various times of the year. Paper MVUMs are available for free at the Ketchum Ranger Station. Links to online versions of all Sawtooth Forest MVUMs are available in the Trail Alerts section of the BCRD Summer TraiLink site. Upload online maps to a phone app, such as Avenza Maps, to allow yourself to pinpoint your current location on the maps. Please contact the KRD for additional info at (208) 622-5371.
Volunteer efforts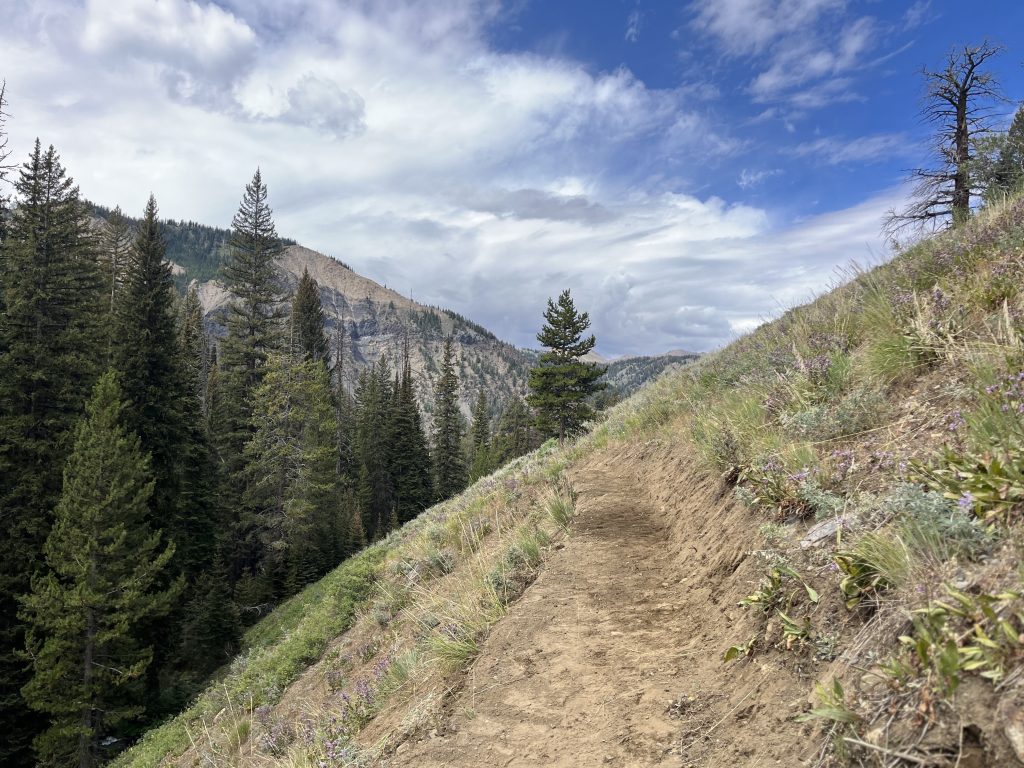 Recently, at the top of Trail Creek Road, the Wood River Trails Coalition hosted a volunteer work session on the Kane-Summit Creek Trail #50. Staff with the Salmon-Challis District of the Sawtooth National Forest were on hand to help. They re-benched 1,600 feet of trail in an area with steep side-slopes and where the tread of the trail had become dangerously out-sloped.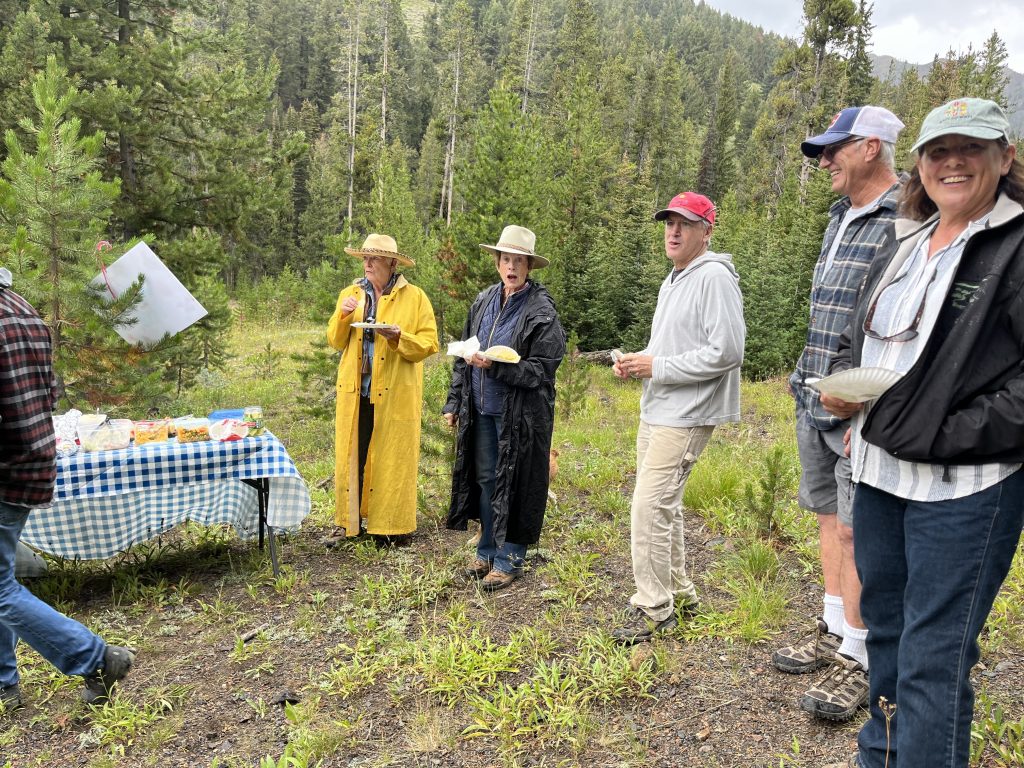 Members of the Sawtooth Back Country Horsemen provided the workers with a follow-up lunch back at the trailhead. The trail does have one difficult-to-pass clump of downed trees remaining across it. It is reported to be about two miles up the trail.
Last weekend, in the Deer Creek area, John Reagle did a ride utilizing North Fork Deer Creek Trail, Sullivan Creek portion of Red Warrior Trail, portion of Greenhorn Trail, and Howard's Trail. He cut-out 7 big trees. North of Ketchum, another volunteer re-cut-out the Oregon-Fox Connector Trail.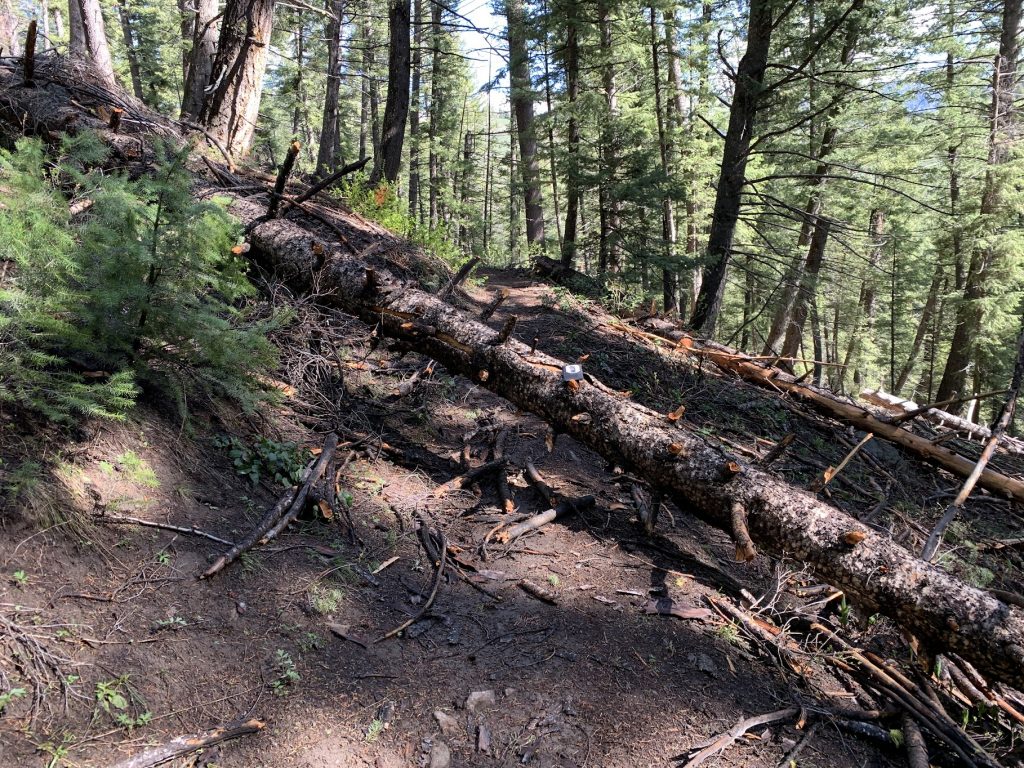 Also, Jeff Mintz and Kent May dirt-biked West Fork Big Smokey Trail – Big Smokey Trail loop. The route is cut-out.
Sheep info
– Baker Creek band is below the Coyote Yurts and near East Fork of Baker Creek.
– Flat Top band is between Trail Creek Road and the Corral Creek corrals.
– Warm Springs band is in Castle Rock area.
– East Fork band is west of Federal Gulch Campground. They are between Spring Canyon and Sawmill Gulch.
– Cove Creek band is in Big Witch Creek.
Sheep guard dogs take their work seriously. Try to avoid areas with sheep if you are traveling with pets. For recommended best practices for interacting with bands of sheep and guard dogs visit the Trail Alerts section of the BCRD Summer TraiLink site.
WRT seal-coating
From September 11 – 15, the BCRD will be seal-coating a portion of the Wood River Trail from Gannett Road in Bellevue to Fox Acres Road in Hailey.
Chris Leman
Wood River Valley Trail Coordinator
Blaine County Recreation District
1050 Fox Acres Rd.
Hailey, Idaho, 83333