Here is a Blaine County Recreation District trail update for Friday, July 7, 2023:
Warfield update (added Saturday, July 8, 2023)
The leg of the Warfield Trail that runs from the Red Warrior-Warfield Connector Trail to the northeast and to Warm Springs Creek is not cut-out and may be impacted by avalanche debris.
Quigley expansion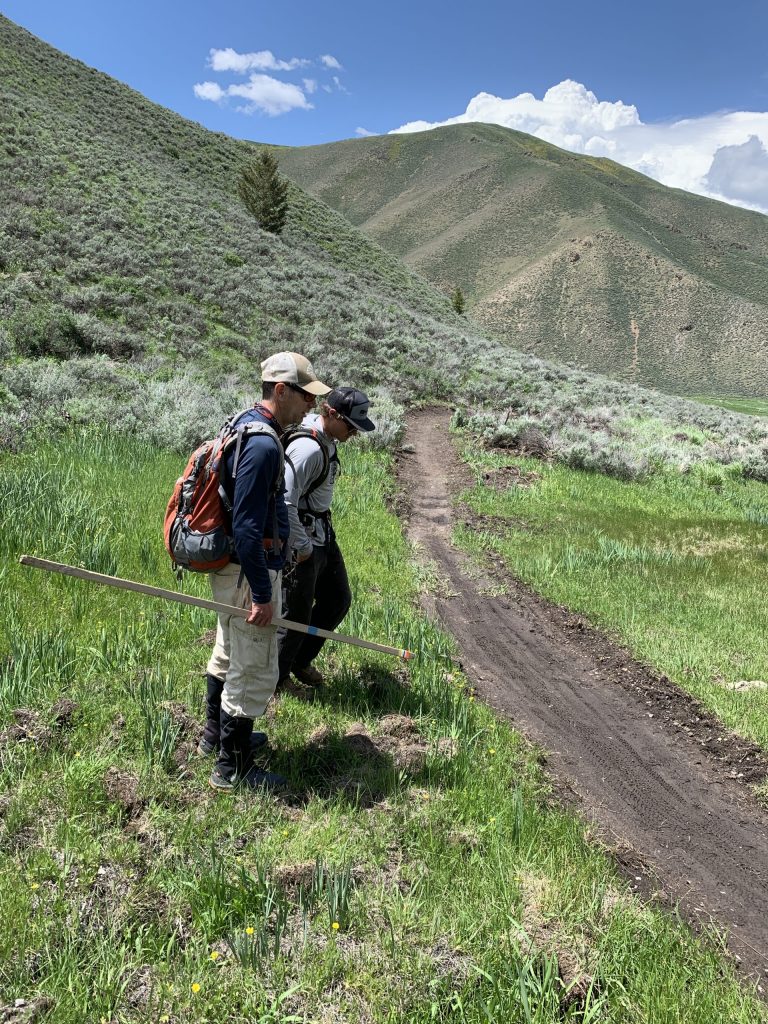 The BCRD has built an extension to the Quigley Loop Trail making the route about a 7-mile round trip. The new construction is on the east end of the trail, out near the pond. You can access the Quigley Loop Trail from the end of Fox Acres Road at the BCRD Quigley Trails Park or from the trailhead parking off of Quigley Canyon Road.
Bald Mountain news
Sun Valley Resort Trails Coordinator, Michael Franco, has been utilizing his trail crew to open additional trails on Baldy.
Here is link to a video about their work:
2023 Sun Valley trail crew video
Most recently opened on Bald Mountain are Saddle Up Trail and Cold Springs Trail. The Cold Springs Trail is open temporarily and will close again in about 6 weeks or when forest health work resumes in the Cold Springs area.
The Warm Springs side of the mountain remains closed for construction projects.
Wildlife safety training
Idaho Fish and Game and the Idaho Fish and Wildlife Federation will host three community conversations in July in Ketchum and Hailey to address human-wildlife conflicts and provide personal safety information and tools to help keep people safe around wildlife. Pre-registration is required. Participants, aged 18 and above, will receive a complimentary canister of bear spray. The events are from 6 to 8 p.m. The dates and locations are as follows: Ketchum, Rotary Park on July 11; Hailey, Community Campus, Minnie Moore Room on July 19; and Ketchum, Rotary Park on July 27. Attendees are encouraged to bring their own lawn chair to the Ketchum events. For pre-registration or more details, contact the Magic Valley Regional Office at (208) 324-4359.
Hwy closures
The Idaho Transportation Department (ITD) will be repaving about 20 miles of SH-21 between Mores Creek Summit and Lowman. Construction will begin on July 10, with closures starting at Mores Creek Summit and moving north towards Lowman. Several miles of the road will be closed at a time, and the work is expected to be completed in September. ITD will provide a weekly closure map on their website to help motorists plan their routes. SH-21 will be closed Monday to Thursday from 7 a.m. to 7 p.m., but it will be open at night and on weekends. Pilot cars will guide drivers with campsite reservations through the work zone once per hour. It is important to note that there is no cell service available along the construction route. For info call the Idaho Dept. of Transportation at (208) 398-3263 or email them at info@SH21construction.org. You can also visit an IDT web site dedicated to the construction project at: https://itdprojects.org/projects/sh21construction/.
Sheep
Four bands of sheep are presently grazing in the Wood River Valley region. One is in Bullion Gulch near the Two Dog and Hidden Valley trails. Another is near Mars Ridge/Greenhorn Trail and grazing toward Poison Flat. A band is in Trouble Canyon and near the Middle Fork Warm Springs Creek. The fourth band is in Cove Creek between The Narrows Trail and Cabin Creek. Sheep bands are accompanied by herders and sheep guard dogs that protect the sheep from predators. Some sheep guard dogs may act antagonistically toward people and their pets. Keep pets leashed. For more information on how to interact with sheep guard dogs go to the trail alerts section of the BCRD Summer TraiLink site.
Warm Springs
Warm Springs Road is closed to vehicles west of Rooks Creek with crews working to replace a washed-out bridge. The tentative completion date is July 20. Further out Warm Springs Road, a culvert at the bottom of Barr Gulch Trail has been washed-out and the trail is inaccessible to horseback riders at that spot. Those on foot or bike can make it across, but equestrians will not find it passable.
Greenhorn bridge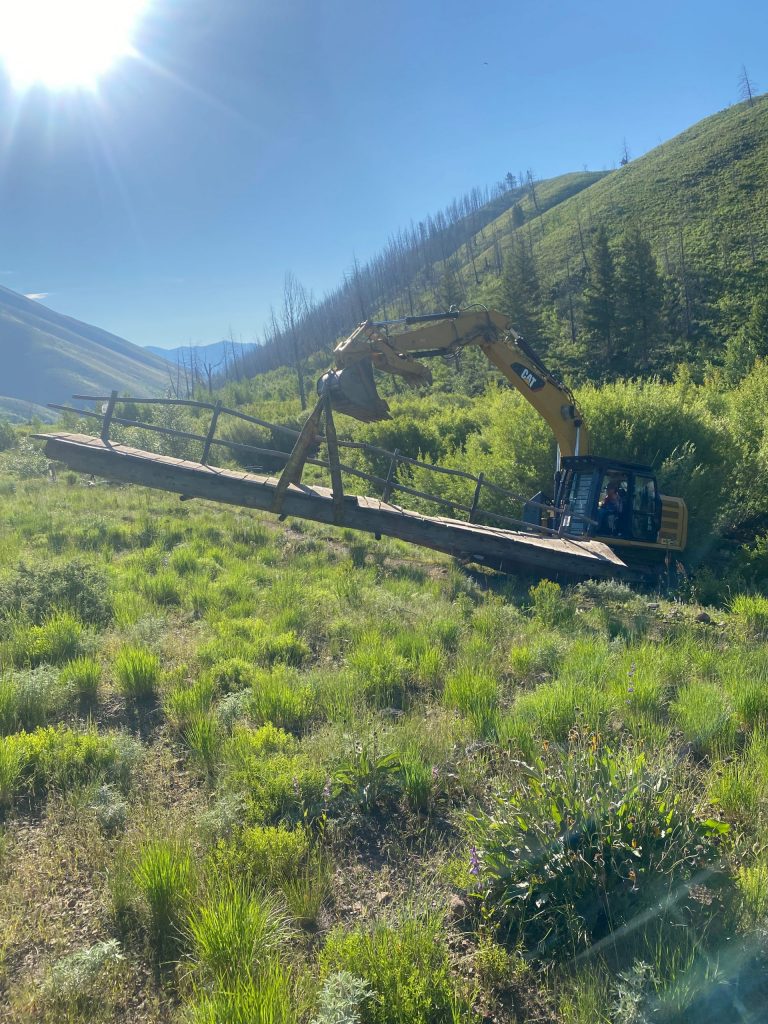 The damaged footbridge near the Greenhorn TH, at the low end of Greenhorn Trail, has been removed by the Ketchum Ranger District. Trail users wishing to cross at that location will need to ford Greenhorn Creek, which at last check was still running swiftly and was about a foot deep. The water level is down from the highs we saw this spring, but the present lower water level has left steep streambanks to surmount. Trail users may want to consider using the Cow Creek Connector Trail #153 to access the more interior areas of the Greenhorn trail system.
Sawtooth National Recreation Area
Here is a link to the latest Sawtooth National Recreation Area trail report:
July 4, 2023 SNRA trail report
Here is some additional information that came in from the SNRA this week:
Snow is now mostly limited to higher elevations and mountain passes, while creeks still have significant water levels.
In the Sawtooth Wilderness, ground fires (also known as "rock fire-rings") are prohibited, but certain areas allow fires with the use of a fire pan or fire blanket.
From July 1 to Labor Day, dogs must be on a leash in the Sawtooth Wilderness.
The group size limit for the Sawtooth, White Cloud, and Boulder Wilderness areas is 12 people or 14 stock.
Groups of 8-12 entering the Sawtooth Wilderness need a group permit from the Stanley Ranger Station.
Proper storage of bear attractants is strongly recommended in the Wilderness Areas and mandatory in the rest of the SNRA due to numerous bear sightings.
Remember to pack out all toilet paper as trash, adhering to the "pack it in, pack it out" principle.
KRD Trail Crew
This week the KRD Trail Crew worked in Greenhorn on the Greenhorn, Mahoney, and Lodgepole trails. They brushed back encroaching plants, cleaned drains, improved the path through the Greenhorn Trail avalanche debris piles, and improved sections of trail tread. Next week the crew plans to work on the trails departing Pioneer Cabin.
WRTC trail work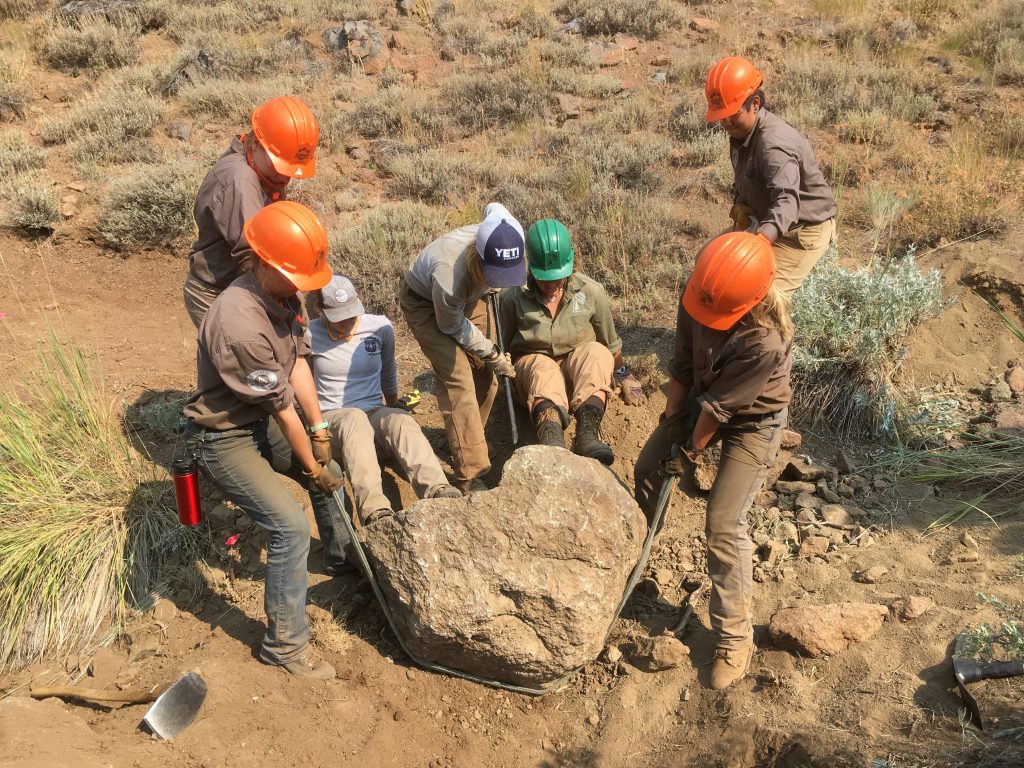 In partnership with the Idaho Trails Association, the Wood River Trails Coalition is hosting a long weekend of work for women only on the Norton Creek-Prairie Creek Trail #134 and the Norton-Miner Canyon Trail #135. The event is sold out, but you can get on the waiting list by visiting the WRTC web page describing the event. Here is a link to it:
ITA/WRTC Prairie-Miner Lakes – W.O.W. (Women Only Weekend)
The WRTC is hosting a volunteer trail work party on the flood damaged Fox Creek Trail on Thursday, July 13 from 5:15 – 7:30 p.m. Here is a link to the group's calendar events page about the upcoming Fox Creek session: