Out Warm Springs, the Ketchum Ranger District Trail Crew has been working on repairs to the fire damaged Rooks Creek Trail. The route was ravaged by the 2007 Castle Rock Fire, which burned for 20 days and consumed over 48,000 acres of the forest. After the fire, debris flows, rock slides and huge avalanches further impacted the trail; making Rooks impassable.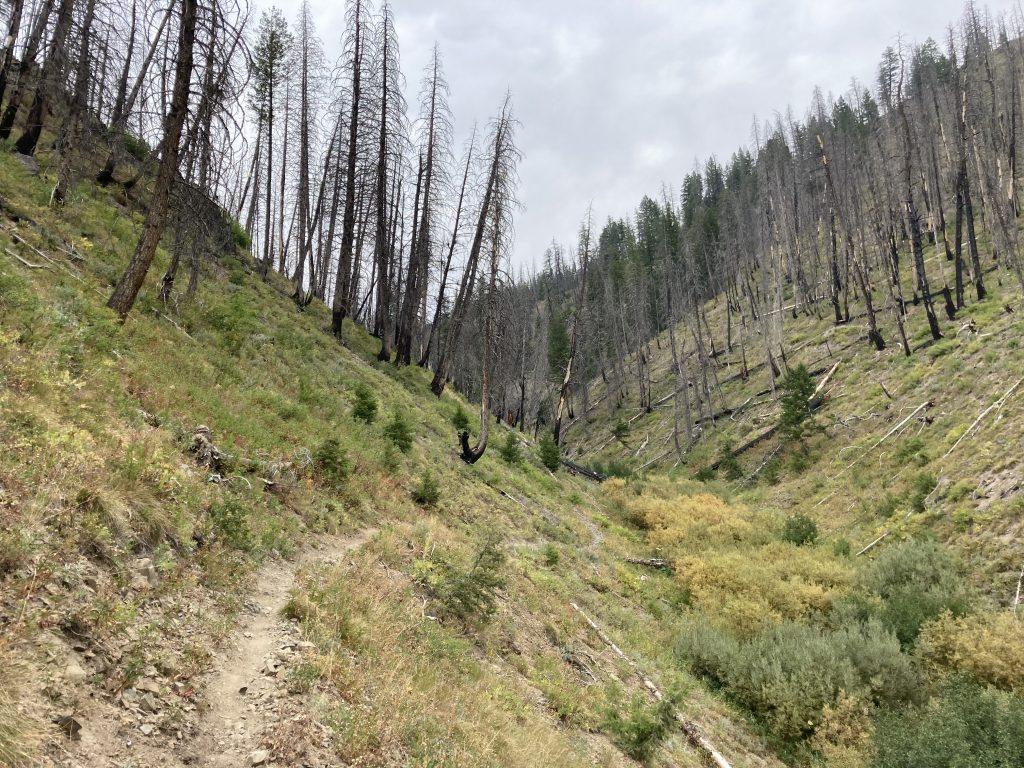 Last summer, KRD Recreation Manager Justin Blackstead, and KRD Trail Crew Supervisor Emil Harry, studied the situation and developed a plan for opening Rooks back up. They designed several reroutes that would get the trail onto a more stable footing while retaining the challenging and rough character of the trail.
During the winter months KRD staff worked on grant applications for funds needed toward the rebuilding effort. The grants were ultimately awarded, allowing the district to hire two Idaho Conservation Corps crews to assist with the project. In early August, the huge task of working a way up, and through, all the problem areas, got underway.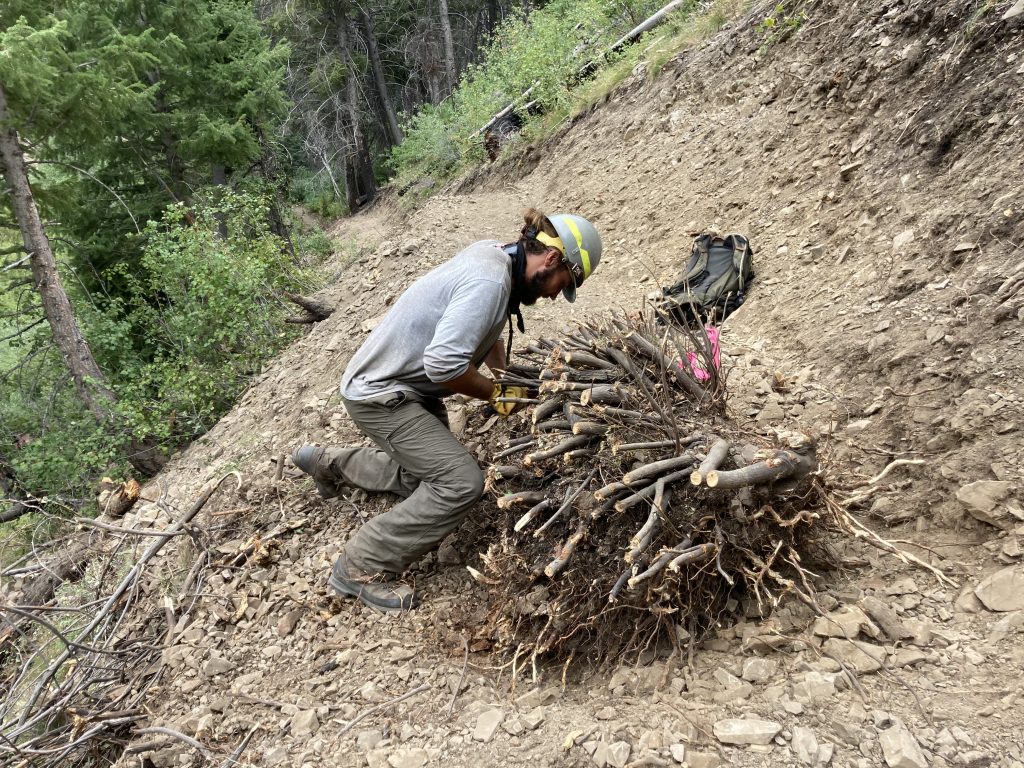 Rooks Creek Trail runs in a rocky drainage, and all of the work was done by hand. The going was hard. The KRD approached the initial work with chainsaws, cutting out a huge number of trees that had come down along the alignment. After the saw work, the swinging of the crews' hand tools began. Building the reroutes involved constructing through boulder fields and across long sections of scree.
It is a work in progress that will likely continue next season. The trail is open, but it includes partially repaired sections. Up higher, some segments don't need any work done to them at all, but other higher sections do need to be repaired or rerouted.
At 6-miles long, and climbing almost 3000′, Rooks is considered a very difficult and challenging route by local expert motorcyclists. (The Sawtooth National Forest's seasonal use designation for the trail has it open to motorcycles and electric bikes from May 1 through August 29 of each year.) Down low, the first couple of miles are mellow. Most of the elevation gain happens in the middle and higher reaches of the trail. Then it breaks over, as it nears the top, which is nice.
In some areas, where repairs have not been made yet, some of the rocky and rooty challenges are super hard to get over. I can only imagine the skill it takes to clear them on a dirt bike. Some of those spots also seem like they would be challenging on horseback, or even for someone leading a horse.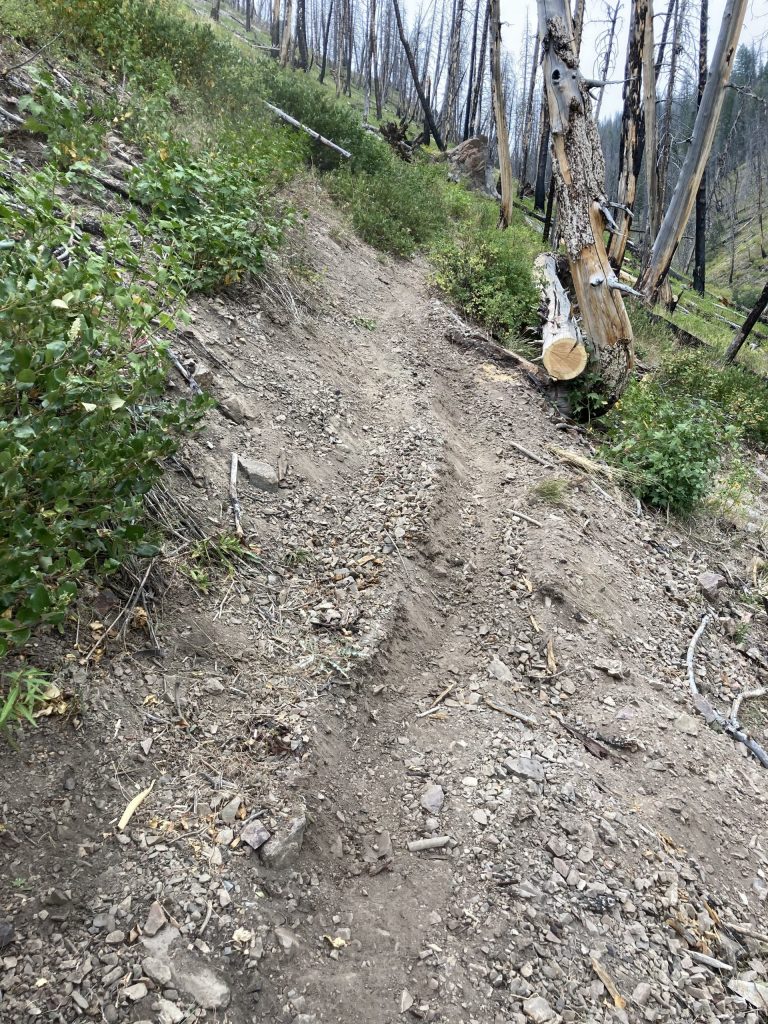 I rode up and down Rooks earlier this week, on an electric mountain bike. On many portions of the climb up, I had to get off and push. In those areas I found that I was unable to keep the pedals turning, and that's using an electric bike, with pedal-assist. Luckily, the e-bike I was on had "walk-mode," which is a common feature on modern e-mountain bikes. It allows me to push a button that gently engages the motor, while I'm walking beside the bike. It is a lifesaver when you are trying to push a 50 pound machine up a steep grade.
Turning around at the top, where the trail meets Osberg Ridgeline Trail, I enjoyed dropping on Rooks. It's technical and steep. In spots along the descent, the trail kicks back uphill. Again, I found myself needing to push in places.
While out on the trail I ran into several members of the KRD Trail Crew. We chatted about the challenges they faced in cutting in the reroutes. It was cool to see how they were tackling some of the trickier stuff. What an effort!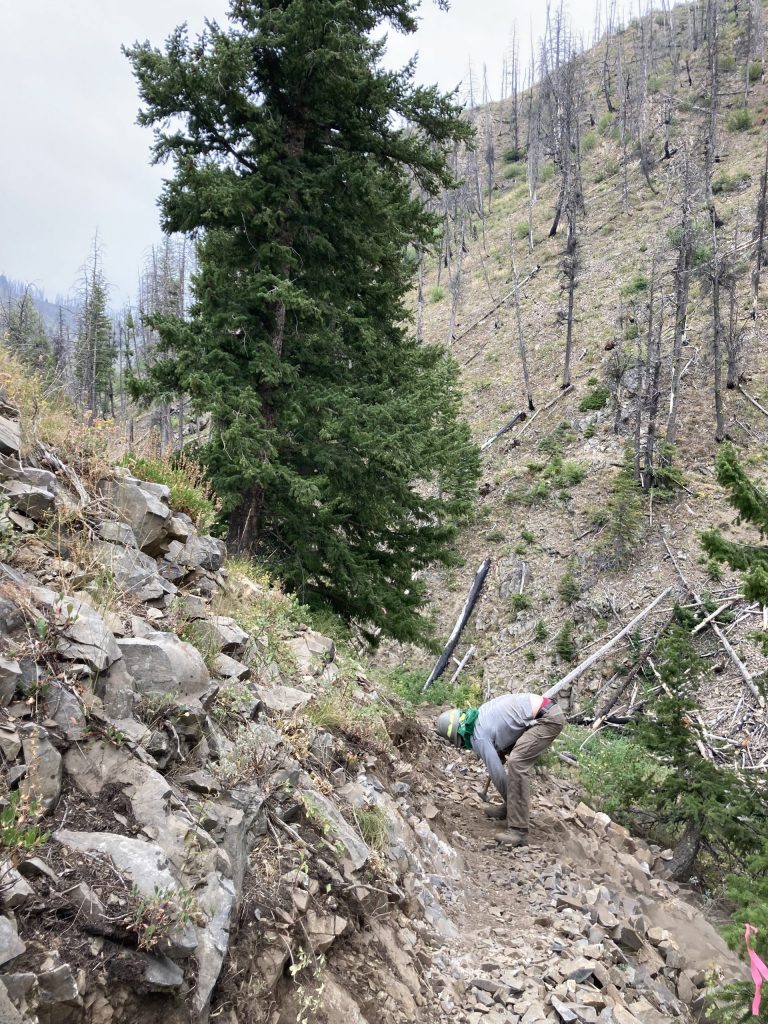 I love how technically challenging the trail is, and how taxing it is to surmount it. A real toughie. I don't imagine a lot of mountain bikers will climb up this trail, but some might, just to test their mettle. Other strong mountain bikers will find Rooks to be useful as a demanding descent off of Osberg Ridgeline Trail.
Rooks is not for everyone. Some may find it a one-and-done, been-there-done-that, kind of a trail. I for one, will return for further scratches and bruises.