Hi All, Chris Leman here. I have a few items to share in this season's last installment of the BCRD Trails Blog. This is my last trail report for 2017, as this is my final week of seasonal employment as the BCRD Wood River Valley Trail Coordinator. I'm looking forward to returning to the position next spring, but until then, others at the BCRD will be maintaining the Summer TraiLink site and taking your calls and emails should you have questions or concerns about the trails. You can call the BCRD offices at (208) 578-BCRD (2273), or email them at info@bcrd.org.
Here are those trail updates: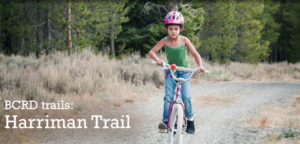 Work Underway on Harriman 
Repairs are underway on portions of the flood-damaged Harriman Trail. Expect crews at work and areas of closure through October. The BCRD Summer TraiLink site is a good source of information about what areas are being worked on. For more information about the project you can check out this link to an article by Karen Bossick: Workers Hasten to Refurbish Harriman Trail Before Snow Piles Up.
Deer Creek Trail Repairs
This week the Ketchum Ranger District Trail Crew finished repairing the flood damaged Deer Creek Trail. There was one last section of the trail that was washed out, necessitating a short reroute onto a rocky hillside. Trail work in the drainage is complete and the system of singletrack is in good shape. Road work continues in the area, with the Deer Creek Road gated closed to four-wheeled vehicles just west of its intersection with Wolftone Road.
Sheep On Move
The Ketchum Rannger District has issued an updated sheep report. Here is a link to it: KRD Sheep Report Sept 28, 2017.
In summary, some bands have moved off of the forest, and more will do so soon. Departing bands are either trucked off of the forest, or trailed off of the forest through neighboring lands. Several bands remain in the area, including:
– A band just west of Cow Creek and moving off of the forest by 9/30.
– A band in the Federal Gulch area, heading downstream along the East Fork of the Big Wood River and expected to be off of the forest by 9/30.
– Sheep are above Bear Gulch.
– Sheep are in the Hyndman Creek area near the corrals and will move off the allotment by 10/1 and trail south through Cove Creek along the road.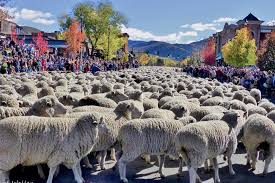 In general, expect to encounter sheep in the coming week as we approach the Trailing of the Sheep Festival October 4 – 8. The sheep that are trailing through for the festival will trail over Galena summit from allotments in the Stanley Basin. If you are in the vicinity of the Harriman Trail, or on other routes between Galena and Ketchum next week, you may encounter trailing sheep.
See you out on the trails!
Best, Chris